Sustainability Efforts
In 2013, US Vinyl is excited to participate in the MindClick Hospitality Sustainability Performance program to improve and promote our sustainability efforts to maximize business success. We pledge to develop, manufacture, and market products that are safe for their intended use of energy, protection of the environment, and that can be disposed of safely as well as provide a safe and healthful workplace.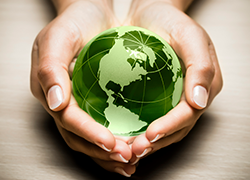 Our current manufacturing procedures to support and protect the environment:
Substrate to contain pre-consumer and post-consumer recycled content
All inks and adhesives are water based and ecofriendly
All unused inks are recycled
All outbound packaging is 100% recycled content
All incoming packing materials are recycled
All incoming packing materials are recycled
Trimming and waste products are recycled
Reduction of carbon footprint
Utilize closed loop water system
U.S. Vinyl's commitment to environmental responsibility is evident not only in our business model and daily operations, but also in our product offerings. Since our inception in 1980, our goal has been to meet the needs of an ever-changing market with products that are aesthetically pleasing, durable, and provide years of service with minimal maintenance. Our wallcovering is 100% recyclable - resulting in a virtually endless life cycle.
---
Déjà vu® Recycling Program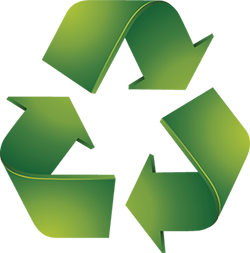 Our reclamation program, Déjà vu® Recycling Program, allows you to return previously installed wallcovering for recycling into new products. Participation in this program supports credit eligibility in the LEED® Green Building Rating System by diverting waste directly away from landfills. To further support LEED®, our wallcovering contains both pre-consumer and post-consumer content. Participation in this program is very simple, environmentally responsible, and for those seeking LEED Certification, can contribute towards credits under NC/CI MRc2. Wallcoverings returned for recycling are processed for use in many products, including new wallcoverings.
Another major concern, not only in the LEED process but also in daily life, is Indoor Air Quality. Poor IAQ affects the health and well-being of occupants and is a critical aspect in the long-term value and performance of buildings. To further consider the environmental and public health considerations, all of US Vinyl wallcoverings are produced with low VOC substrate which is compliant with California Section 01350 IAQ requirements for wallcoverings.
---
Mold and Mildew Protection
For areas that are prone to mold and mildew due to high humidity levels, we've developed our NaMil-Trac® fabric backing as well as our Moisture Away® micro-venting process. When used in conjunction, they provide an excellent tool in the defense against mold and mildew.
If you'd like more information on these specialty products/processes, please don't hesitate to contact us toll free at 800-633-6425.