BannerSaver® Parking Lot Light Pole Banners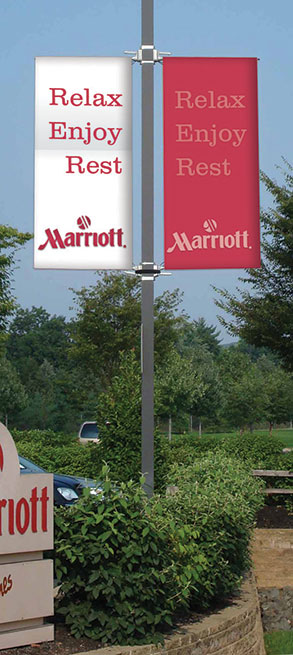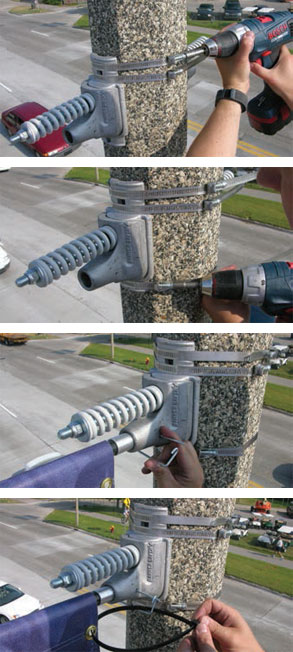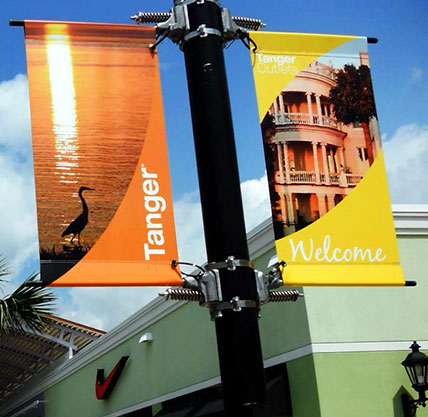 BannerSaver® Provides Better Visibility
BannerSaver® is a patented, spring-loaded bracket system allowing light pole banners to flex according to wind speed and direction.
They did it!
They designed a way to secure outdoor banners so when the inevitable happens – from a 25mph breeze to a 70mph storm – banners and poles can shrug off the wind and survive intact.
BannerSaver® brackets allow a banner to flex according to wind speed and direction. Instead of catching the wind and tearing, your banners bow briefly to let wind spill safely away.
When the wind dies down, banners and poles return to their original position, remaining taut and readable the entire time. Our customers rely on BannerSaver® brackets to promote events and generate ad revenue on outdoor light poles everywhere.
Simple. Brilliant. Patented.
Eliminates damage to banners, brackets and poles from winds up to National Weather Service tornado specifications.
Speeds banner change-outs.
Keeps banners taut and looking terrific.
Proven: certified and installed across the U.S. and worldwide.

The only outdoor pole bracket

allowed by many cities.

Five sizes, for banners from 9 sq.ft.

up to 30 sq.ft. based on wind load.
BannerSaver® Makes Standing Up To Weather a Breeze!
Keys to BannerSaver® Performance
Spring-Tensioned Assembly - BannerSaver's exclusive spring-loaded mechanism responds to winds quickly according to speed and direction, rotating with the wind vertically and horizontally to dramatically reduce wind load on banners.
Simple Physics - BannerSaver's change in angle spills 87% of wind compared to less than 25% for standard bracket systems.
Universal Size - Fits any banner width.
Two Piece Cast Aluminum Base - BannerSaver® is easy to install with standard tools. Powder-coated finish is available.
Five-Year Warranty.