BannerDrop® Lobby, Ballroom & Conference Center Banners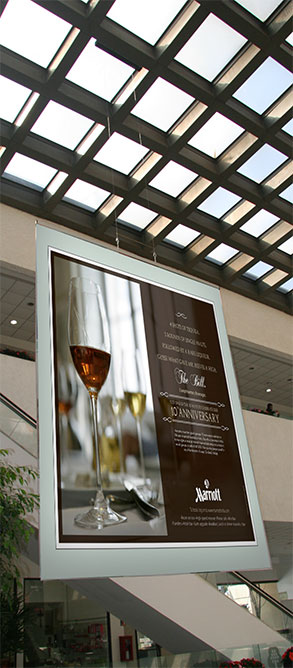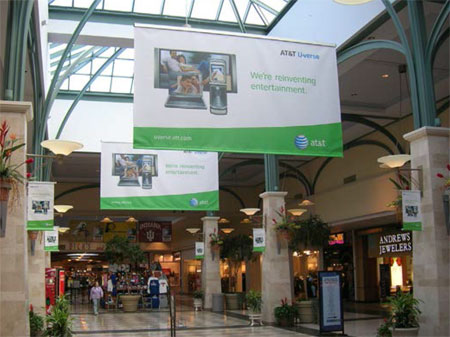 BannerDrop® Provides Beauty
Hit a remote-control button and old banners come down, new banners go up – as high as 60 feet – staying smooth and level.
BannerDrop® can handle large banners of any type, die-cut or framed, horizontal or vertical. Have a special challenge? We'll rise to it, as always, and develop a custom solution that meets your needs.
Now this is Easy!
It's so quick and cost-effective, you can easily display and change an endless succession of banners. Best of all, BannerDrop® eliminates the expenses, risks, labor and insurance costs associated with traditional lift rentals.
From Innovative to Indispensable...
Turns empty space into revenue space.
Ideal for revenue-producing ads, sponsored messages, announcements.
Quickly raises, lowers and replaces banners with push-button ease.
Delivers big savings on expensive lift, rental, labor and insurance costs.
No insurance, safety risks, or mess of using lifts.
BannerDrop® – Utilize Ceiling Space with Push-button Ease!
Accommodates a wide range of banners - you name it, BannerDrop® hangs it.
Lifts up to 140lbs.

Reliable – already in use in hundreds of shopping malls, arenas, stadiums, universities and airports.
Our exclusive BannerDrop® design was inspired by complaints and frustrations with lift rentals and empty, non-productive, non-profitable ceiling space. We responded, building features into BannerDrop® that make it easy to bring a revenue-generating, image-enhancing banner program to your high spaces.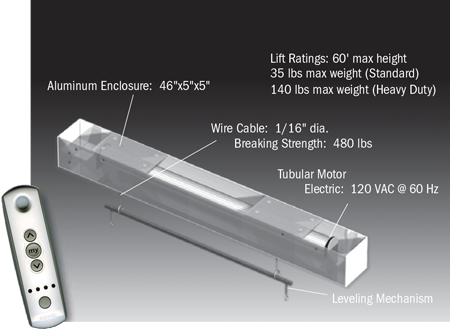 Keys to BannerDrop® Performance
4-Channel Remote Control: Push a button to raise or lower displays. BannerDrop® can raise your displays to a maximum height of 60 ft.
UL Approved Solid-State Tubular Motor: BannerDrop's reliable operations have been proven in the busiest of retail and event locations.
Strong, Durable Cables: Made of stainless steel for years of trouble free, maintenance-free service.
120 Power or Optional Battery Operation: BannerDrop® is energy-thrifty – far more efficient than lifts.
Patented Cable Indexing Mechanism: Unique design eliminates wire tangling, keeps banners level at all heights.
Clean Construction: Paintable to match ceilings. Banner held clean and smooth by anodized aluminum casing. Fabric solution available.
Available in Several Versions: BannerDrop® Standard lifts up to 35lbs. BannerDrop® Heavy Duty up to 140lbs. BannerDrop® has also been custom-engineered for international use and many unique applications.